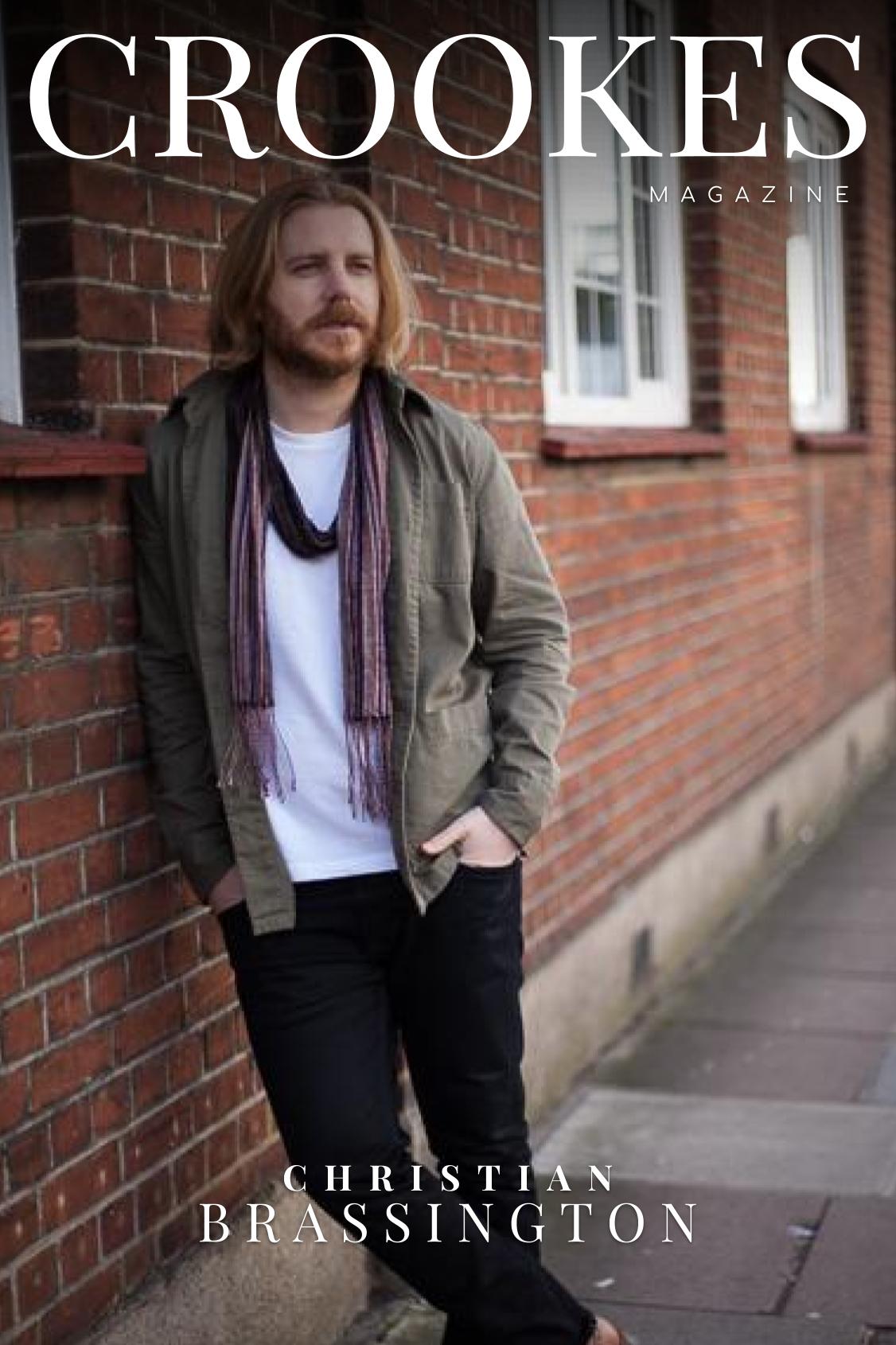 CHRISTIAN BRASSINGTON is at the center of British television-buzz with his new role in BBC's hugely popular 18th-century set drama 'Poldark'. Christian portrays the villainous Reverend Osborne Whitworth – in which he looks unrecognisable.
Christian Brassington recently had a quick chat with us, touching on all-things 'Poldark' – with the exception of spoilers.
AC: 'Poldark' has become a major hit with British audiences, why do you think it is so successful?
CHRISTIAN BRASSINGTON: I think it's about people, isn't it? An audience needs to be able to relate to the characters they're watching; to have a connection to them. Debbie Horsfield has done a magnificent job of making characters from an era three centuries distant from us feel relevant and recognisable by writing fully rounded people for us to play. I'm sure it helped that the original series from the 1970s was so well loved. At the heart of it, Winston Graham wrote novels on that theme immemorial: dark vs light. The clever bit was to nuance that with interesting, flawed characters. There are some wonderful performances: from Eleanor Tomlinson, Jack Farthing, Ellise Chappell, Luke Norris to name only a few. It's a sprawling, marvellous cast. Also, it's bloody pretty.
Where do you fit into the world of 'Poldark'; can you tell us a little more about your character?
I play a hugely entitled, minor aristocratic Reverend called Osborne "Ossie" Whitworth. He is not some pious minister who has devoted his life to god. More a man of enormous appetite for self-gratification who uses the cover, and status, of the clergy to get what he desires. George Warleggan (Jack Farthing) threads Ossie into one of his Machiavellian tapestries with dire consequences for the female inhabitants of Cornwall. He initially appears ridiculous in his pomposity and self-regard, especially considering his grotesque appearance. But any humour dissipates when the full horror of him as a husband is revealed. He repeatedly rapes his poor wife Morwenna (Ellise Chappell) and seems to have no regard for anyone else's feelings beside his own. He's a monstrous character. I'm very grateful that I get to play him but he's about as far away from decency and kindness as you can imagine. I think he's probably a sociopath.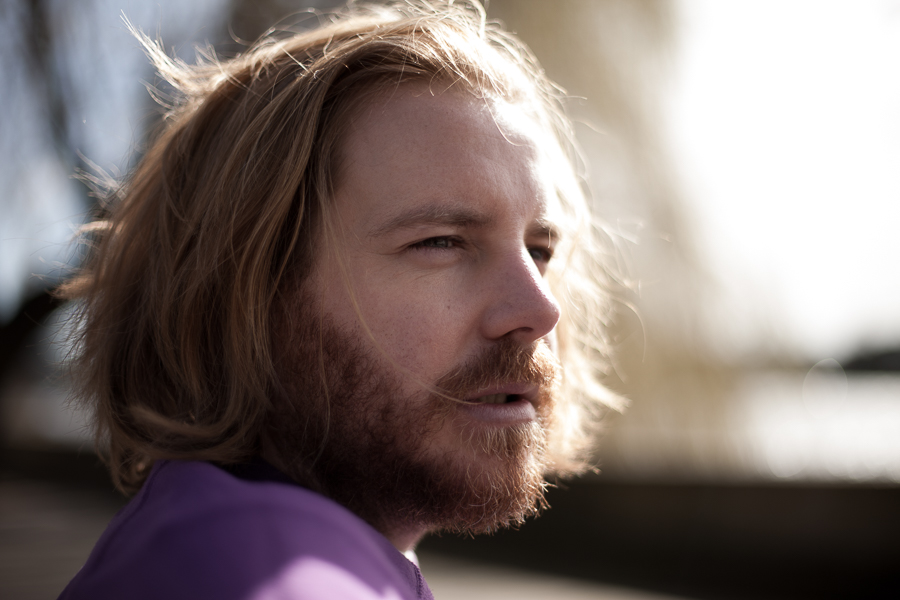 How much time did you have to spend in the costume and makeup department?
Quite a long time for a male actor really. About 45 minutes. I had to have my hair curled and tonged every morning and then greased if it was too clean – I would beg Pippa Woods, our hair and make-up designer, to let me wash my hair of an evening! I also had type of liquid rouge added to ruddy my complexion. This series I asked to have dark circles applied under my eyes too. There's no space for vanity as an actor when you're playing Ossie! Though that's quite refreshing; to let go of any personal hang-ups about how you look and just play the character truthfully. Ossie still thinks he looks irresistibly gorgeous, of course.
The girls have it worse with all their hair, wigs and make-up. Plus, I didn't realise for a long time that the female actors have to get laced into their corsets by a member of the costume department every single morning. Can't be much fun trying to eat your lunch (or sit down) when you're constrained like that. Although I did have to put my costume on in a certain order; my outfits were intentionally made slightly too small so they'd be tight and 'accentuate my curves'(!) If I did my breeches up there was no way I could bend down to put my shoes on. I'm eternally grateful to the costume department for helping me out of my buckled shoes and into comfier Ugg-type slippers between scenes, but it was quite an unedifying spectacle!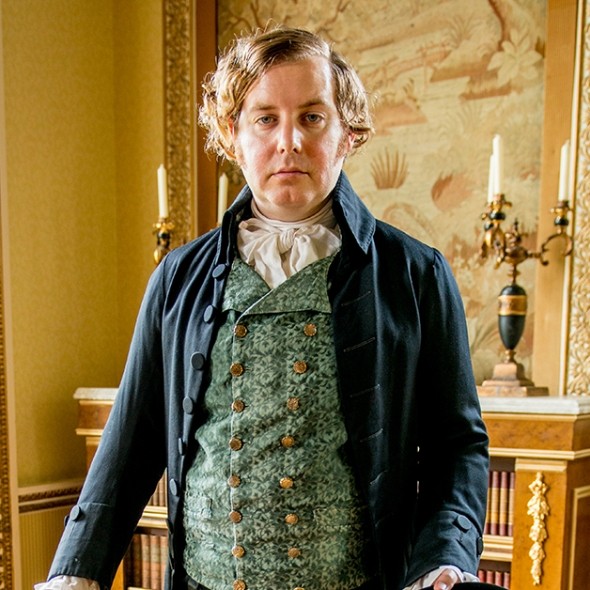 What locations did the show take you to?
The majority of my scenes are filmed at a studio in Bristol. It's amazing what the set builders and the lighting designers can achieve. This will sound trite but it's entirely true: one day I was sat on the sofa in the 'parlour' of the Whitworth Vicarage as a scene was being set-up and thought to myself "what a beautiful day" as I looked at the sunlight streaming in through a window…we were inside a cavernous studio, it was pre-dawn, raining outside and the light was entirely artificial! They're artists.
We got to spend a day filming in Cheddar Gorge this year which was great. I really enjoy filming inside the old country houses. I did get to go down to Cornwall this year also. We filmed a scene on a natural jetty with seals bobbing around in the Atlantic. It would've been incredibly picturesque…had the wind and rain not been coming in sideways. I don't know how I managed to stay upright on the slippery stone slope with my heeled shoes on. The crew were soaked through. But still we had a gathered audience enduring the elements to watch us film. Poldark fans are the best, we're very lucky.
Are you big on travelling?
Massive. I love, love, love travelling; seeing new places and revisiting older ones. I think you'd really need to live in cities like New York, Barcelona or Budapest to properly get under the skin of them. I'd like to live abroad one day.
I'm itching to see more of Africa. My wife and I fell in love with The Gambia. South Africa is so beautiful. And I think the Ngorongoro Crater in Tanzania is the most incredible place I've ever had the good fortune to visit. Then you think about the diversity between the cultural richness of the Masai, say, and a country like Morocco. It's staggering. Sierra Leone, Togo, Benin and especially Ethiopia are next on the (ever-growing) list.
You're starring in 'You, Me & Him' and 'Fisherman's Friends' what can you tell us about the projects?
I'm really excited about Fisherman's Friends. It's an independent British movie with a wonderful cast and great story. I'm not quite sure how I've managed to bag a part in it. We're filming right now down in Cornwall and London. Film sets are such great places to be. I love cinema and still get excited when I see all the crew, cameras, trailers and equipment.
You, Me & Him is a very funny, surprisingly moving, film – the debut feature from writer/director Daisy Aitkens. I don't really star in it though. I've been in a couple of Daisy's short films and she decided it would be funny to have Georgia (the film's producer) and me pop up as a dysfunctional couple in a hypnobirthing class. I personally think I should've played the male lead John but he's a wiry hipster and I was two and a half stone overweight filming Poldark so they got some guy called David Tennant to play that part. He's apparently some up and coming young actor with a great career ahead of him! [laughs]
It wasn't that long ago that you portrayed a young Boris Johnson in 'When Boris Met Dave', if you could portray another public figure – who would it be?
Yes, I played a young Tony Blair too so based on the difference between those two hopefully I could portray a range of characters. But I think my North European colouring is just too different to Caravaggio's to ever play him. Which is a shame because it sounds like he had an incredible, turbulent, life.
I'm grimly fascinated by Kurt Cobain. This incredibly talented, beautiful, young man tortured so terminally by his demons. And I'm in awe of the dedication it takes to become a professional sportsman so I'd be up for the challenge of trying to get into that head space. I think flawed characters are more interesting to play.
QUICK QUESTIONS WITH CHRISTIAN BRASSINGTON
Last movie you watched?
I finally caught up with 'The Death of Stalin'. It was glorious (and worryingly pertinent!)
Best show to binge-watch?
'The West Wing' was my ultimate 'just one more episode' show. At the moment I'm loving 'The Good Place' and 'Bloodline'.
What's the strangest food combo you've ever had?
We had a meal in Laos which came with an ant sauce. Literally whole ants in a sauce. That was an odd thing to shovel toward your mouth!
What's on your music playlist at the moment?
Barbarossa's new album 'Lier', Janelle Monae's Dirty Computer and I can't stop listening to the track 'You and I' by Toro y Moi. I keep going back to The Rolling Stones' Havana Moon too. It's the recording of their groundbreaking gig in Havana. What a show that would've been to see live. And Mick Jagger speaking Spanish to the audience is exactly how you would expect, and hope, it to be!
Everyone has a cool app idea, what's yours?
I'd mused for years on the idea of an app that collated lots of different news sources: football coverage from The Guardian; cricket from The Telegraph; op-eds from The New York Times, for example. But then those clever lads at Apple brought out the News app so now I've got nada. I don't even own Apple stock! [laughs]
A sport you wish you could play?
I played a bit of rugby when I was younger but I was always too small to play openside flanker. Imagine playing wing-forward in an international test? But my ultimate would be to play anywhere for Manchester United. Or any position in the NFL. I'd like to be a professional sportsman, basically!
Best present you've ever received?
My wife took me on a surprise trip to New York for my 30th birthday. She only broke the news at the airport – I genuinely believed we were going to Benidorm!
Worst joke you've ever heard?
Brexit? That or utilising Paul Pogba as a defensive midfielder!
Last book you read?
'Mothers by Chris Power'. It's an astounding debut. And I'm making my way through Frank McCullough's biography of Truman. What a life, what a writer.
Would you rather be at a mountain hideaway or a beach house?
Beach house please.
Do you have a philosophy?
Not really. "Be kind" seems a succinct, helpful, mantra though.
One thing in particular that you're really excited about for the future?
I don't know if I'm excited about this, unfortunately. But I really hope that we rediscover the importance of expertise and knowledge over opinions shouted for personal gain. And that we as a species realise we're but one tiny part of an ecosystem with no more right to be here than any other creature.
Poldark to air on Sunday 10th June at 9pm on BBC1.
PHOTOGRAPHER: PAUL BLACK
INTERVIEW: ADAM CROOKES
Send a Letter to the Editor about this Article
—
MORE INTERVIEWS:
Interview: Alex Lawther & Jessica Barden are teen-misfits in 'The End Of The F***ing World' on Netflix
Interview: Liam Gallagher on his new album 'As You Were'
Interview: Amanda Abbington on her leading role in Netflix's 'Safe'
Interview: Emmett Scanlan on Netflix's 'Safe', Auditioning & Powerful Women
Interview: The Magnetism of Billy Magnussen – 'Black Mirror' & 'Game Night'
Interview: Wallis Day has landed on 'Krypton'
Interview: Ray Panthaki on 'Marcella' Season 2 & being a BAFTA Breathrough Brit
Interview: Blossoms on directing their music videos and their new album
Interview: Hayley Law is taking over your screens on 'Riverdale' & 'Altered Carbon'
Interview: Violett Beane plays Truth Or Dare and shares her App Idea
Interview: Ralph Ineson on the freedoms of motion capture and his role in 'Ready Player One'
Interview: Tommy Bastow on his role in ABC's 'The Crossing'
Interview: Jack Maynard on moving forward & balancing YouTube, TV & Touring
Interview: Disney's Meg Donnelly talks 'Zombies' & 'American Housewife'